Please check in often because we will frequently update the product pages with new items.
News flash! Wichita Falls Records ringtones are now available for your cell phone!
Click here to visit Wichita Falls Mobile . com
Listen to Wichita Falls Records new PODCAST! There will be new shows added regularly so don't miss out. If you like what you hear then be sure to subscribe. It's free!!!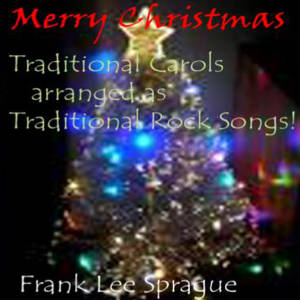 The coolest album of Christmas Carols ever! Frank Lee Sprague shows his genius on track after track, starting with a Ventures-style version of "Jesu, Joy of mans Desire" and ending the LP with a Bel-Airs style rendition of "The Messiah"!
New EP by the Sprague Bros!

Just in time for the holidays and New Year, the always sensational Sprague Brothers are back with a powerful EP, 4 New Smashing Songs. From ghostly drag strip to a shoreline pleasure drive, the Sprague Brothers take us on a motorvatin' ride with three sparkling original instrumentals topped off by one of their trademark harmony-filled ballads. KAPOW! Chris Sprague starts things off with a pounding staccato roll of the drums, quickly joined in tandem by Frank on guitar showing off a masterful new guitar picking technique. "Batmobile" builds such intensity, it never lets go. In the tradition of the Ventures in Space, the instrumental features experimental special effects which become integral to the overall sound. "Dragula" manages to sound upbeat and spooky at the same time, with its driving rhythm, insistent guitar riff, eerie sound effects, and some of the best pure rockin' lead guitar you'll ever hear. Their intuitive and yet close-knit playing is a revelation and proves once again why the Sprague Brothers rock 'n' roll better than anyone in the business today. The brothers change pace with "Golden Sahara," a languid ballad sung by Frank, featuring an ethereal melody and lovely choral harmonies by Chris. The music beautifully evokes a peaceful desert oasis at night, a sighing wind and shifting sands, water shimmering under a starry sky. We don't linger there for long, though. "Return of the Munsters" speeds us on a wild ride to the drag strip. Long in the Sprague Brothers' repertoire but never recorded until now, the instrumental proves well worth the wait. Inventive and intricate, you'll listen closely over and over again from start to finish – that is when you're not up and dancing around the room to its incredibly catchy beat. As ever, Wichita Falls, Texas natives, Frank and Chris Sprague play with verve and passion and sincerity. Their unparalleled and at times uncanny musicianship and songwriting conjure up rock 'n' roll magic with every recording and 4 New Smashing Songs fills the bill, leaving you craving another round. Fans may expect much more from the dynamic duo in coming months, with a DVD set for 2009 as well as further album releases. The Sprague Brothers' work has wowed reviewers in Rolling Stone, Playboy, The Washington Post, The New Yorker, and many other magazines and newspapers. They have appeared on CBS nationwide television and National Public Radio, and have performed live around the world, including several successful tours of Japan. Other albums available include, The Savage Sprague Brothers, Changing the World, One Chick at a Time, and The Song, on Wichita Falls Records, The Best of the EssBee CD's Volumes One and Two on El Toro Records, and Let the Chicks fall Where they May and Forever and a Day, on Hightone Records.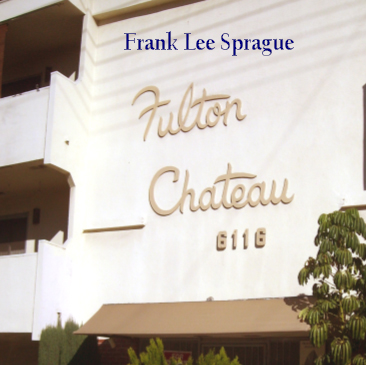 New acoustic LP by Frank Lee Sprague! "Fulton Chateau" breaks new ground with 20 original songs for an hour of Sprague-Music!
Frank Lee Sprague's Fulton Chateau is a meditation on love lost or squandered, opportunities missed and lovers estranged. Like its companion album, the highly acclaimed Fulton Avenue, the songs are acoustic-based, yet diverse in song structure, with wholly original harmonic progressions and unforgettable melodies. The songs take the listener on a stark journey through heartache and regret, but never quite despair.
Fulton Chateau's highlights are numerous. "Can't Deny" leads off, setting the tone for what's to come, with a plaintive, world-weary melody sung with passionate tenderness.
"You Don't Know" is a haunting, harmony-filled ballad, so heartfelt and yearning it stays with the listener long after it's over.
One of the most unusual and intense songs is "In the End," which includes a backdrop of Duane Eddy-style tremolo guitar and effective spoken verses.
Other standouts include the contemplative "It's not Right," with string quartet backing, "Seduced, Betrayed," and its Everly Brothers-style duet singing, reminiscent of Frank's work as one half of the fabulous Sprague Brothers, and the edgy and impassioned "Out of My Reach."
Fulton Chateau proper closes with the lovely, atmospheric, "Awakening," one of several wordless sound-paintings which serves to heighten the album's mood. Keep listening after the final chord. As always, Frank Lee Sprague provides a rich trove of bonus tracks, this time with a full band. Among the standouts, "I Don't Want You" is a ferocious rocker, tough, catchy, and explosive, while "A Free Man" finds a country-rock groove with a melody so catchy it would climb the Top 40 charts in a better world. Backed by a full orchestra, Frank Lee Sprague leaves us for now with a softly crooned lullaby, "Beautiful Starry Eyes."
Fulton Chateau is beautifully textured, carefully crafted art, but above all, it is soulful, the work of a musician and songwriter who lives and feels what he writes about.
Known for his unparalleled ability to synthesize authentic rock 'n' roll styles into his own West Texas imprint, Frank Lee Sprague's work has wowed reviewers in Rolling Stone, Playboy, The Washington Post, The New Yorker, and many other magazines and newspapers. He has appeared on CBS nationwide television and National Public Radio, and performed live around the world, including several successful tours of Japan. Over the last few years, this charismatic songwriter and musician has recorded and released the critically acclaimed albums, Merseybeat, Cavern, Merry Merseybeat Christmas and Fulton Avenue, while also revered by fans for his long-time work as leader of the fabulous rock 'n' roll duo, the Sprague Brothers.
All new SB's LP features all co-written songs!

It's the all new LP "The Song" featuring co-written songs by Frank and Chris! New versions of classics such as "Right or Wrong", "Green Arrow", etc.

Also features brand new songs from the Sprague Bros songwriting team!
Merry Merseybeat Christmas

All new/original/Merseybeat/Christmas songs by Frank Lee Sprague!!!

Glory to God in the Holy Name of Jesus!
All new SB's LP!

"Changing the World, 1 Chick at a Time"

15 tracks, all original. +3 bonus tracks of cover songs!

You gots ta get this hot record!!!

The Sprague Brothers: "putting the soul into rock'n'roll"!
"Concerto for Violin with Orchestra"

An outstanding contribution to the still far-too-small Sprague discography. This irresistible discovery, winningly championed by a new orchestra with this long-overdue first recording of his Violin Concerto, proves Frank Lee Sprague a musical genius of Mozartean universality and range.
Granny's Henhouse, the LP!

All of Granny's larapin' good stories!

Featuring music by her Chicken Pen Pickers!
Over the last few years, Frank Lee Sprague has recorded and released his widely acclaimed albums, Merseybeat, Cavern, and Fulton Avenue, while also revered by fans for his long-time work as leader of the fabulous rock 'n' roll duo, the Sprague Brothers. With "She's Good," Frank demonstrates once again his prowess as vocalist and remarkably inventive and powerful lead guitarist. Frank's brother, Chris, sings impressively arranged harmonies, while David Raven provides that unforgettable beat on the drums.

Listen to "She's Good." It will reach inside your soul and make you dance.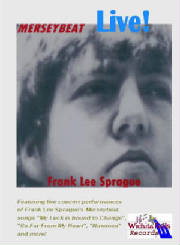 August 2005 found Frank performing a vibrant set before an appreciative crowd at the Club Good Hurt in Los Angeles, California, as part of the International Pop Overthrow Festival. The show featured several self-penned highlights from Frank's acclaimed album, Merseybeat, including the flat-out Beatlesque rockers, "My Luck is Bound to Change," and "Nineteen," along with the tender ballad, "So Far from My Heart," and the beautiful, harmonica-infused, "Alone With Her Memory." Frank also treated the crowd to blistering covers of "Hippy Hippy Shake," the Hollies', "Come on Back," and a rave-up take of "I'm Down," by the Beatles.
Shot on a single camera in a dark club and recorded with superb sound, the result is edgy and intense. For fans who love the Liverpool beat and pure rock 'n' roll, and for those who have never experienced the energy and excitement of a Frank Lee Sprague concert, this one's for you. Wichita Falls Records is pleased to present Merseybeat Live!
You can't pigeonhole Frank Lee Sprague unless it's to say that his music is always pure and always passionate. He is a master of many styles and many genres. Those familiar with his rock 'n' roll recordings know that he mixes rockabilly and surf and British Invasion-style music into a unique West-Texan stew. And yet he moves so fast you can't pin him down. Now, after two powerful, highly acclaimed Merseybeat themed albums, Frank explores another side of his talent on the superb, Fulton Avenue.
The follow up release to the critically acclaimed "Merseybeat" has been released!

All new/original Merseybeat songs by Frank Lee Sprague!
Hammer Down!

Country truckin' songs!

Includes 3 new original truckin' songs from Chris Sprague

Get this LP, and put the Hammer Down!
New SB's release in partnership with El Toro Records

The first in a SERIES of releases of rare Sprague Brothers

®

songs! Volume one of "Best of the EssBee CD's" available now!!!

If you can't rock you'd better roll daddy-o!
A one movement work for Piano, violin, viola, and cello.

This is music by a master craftsman, played to the hilt and recorded with stunning realism and fidelity.
Performed by full orchestra! Featuring "Symphonic Poem"

A

performance of great emotional extremes, one that wrings every drop of expression from the music.
New CD by Frank Lee Sprague:

"Merseybeat"

available now!

All new recordings of merseybeat songs by Frank Sprague! All original compositions!

"In an extremely impressive feat of inspiration and musicianship, Frank Lee Sprague produces a set of songs that are both original and true to the spirit of an era." Gary Glauber, PopMatters.com, March 2005
Sign up to receive info on new releases and offers: